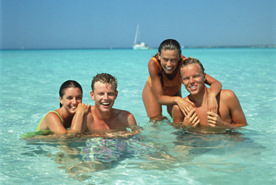 Spring Break 01. Pharmacy Students, Trip to Miami Beach!
RxLink
Allergan presents ACULAR PF, the only preservative-free topical NSAID
The Present and the Future of Pharmacy 2001
In the last quarter century, pharmacy has expanded its role within the health care delivery system from a profession focusing on preparation and dispensing of medications to patients to one in which pharmacists provide a range of patient-oriented services to maximize the medicine's effectiveness. Medicines today have great power to heal and to improve the quality of life for millions of Americans. But medicines also may do serious harm if not taken correctly. This is where the role of the pharmacist is most important.
Pharmacists practice in a number of health care settings including hospitals, clinics, nursing homes, health maintenance organizations, LTC, academia, research and others. However, nearly everyone is familiar with community pharmacists and the pharmacy in which they practice. Six out of every ten pharmacists provide care to patients in a community setting. You probably visit the community pharmacist more often than you do any other member of the health team. Pharmacists talk to people when they are healthy and when they are sick, when they are "just browsing" or when they are concerned with an emergency; when they have specific needs as well as when they are seeking advice or information.
Community pharmacists are playing an increasing role in the "wellness" movement, especially through counseling about preventative medicine. Pharmacists serve patients and the community and by referring patients to other sources of help and care, such as physicians, when necessary. Likewise, advances in the use of computers in community pharmacy practice now allow pharmacists to spend more time educating patients and maintaining and monitoring patient records. As a result, patients have come to depend on the pharmacist as a health care and information resource of the highest caliber.

Community pharmacists, in addition to the variety of tasks performed in and out of the pharmacy, are specialists in the science and use of medcations. They are knowledgeable about the composition of drugs, their chemical and physical properties, and their manufacture and uses. Additionally, a pharmacist understands the activity of a drug and how it will work within their body. More and more prescribers rely on pharmacists for information about the various drugs, their availability and their activity just as patrons do when they ask about nonprescription medcations.
The community pharmacist is in an ideal position both to ensure that drugs are used in the safest and most effective way possible, and to encourage appropriate self-care. In addition, since people trust pharmacists as educated and approachable health professionals, they often present them with a variety of nonmedication-related questions concerning such issues as birth control or alcohol abuse. For practical purposes in day-to-day practices, community pharmacists are central in helping patients receive the most benefit from the medications we provide.