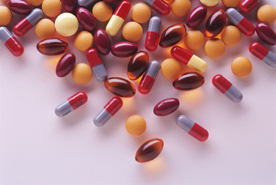 TOP News: RxLink
09/14/04 Distribution Changes for Lamprene®
09/06/04 The benefit most Aetna members use most frequently is their prescription drug coverage.
04/16/04 RxLink Carolina Pharmaceuticals feels obligated to correct misinformation that you may have received concerning the regulatory status of Humibid LA and Humibid DM.
04/15/04 RxLink News from Janssen Pharmaceuticals and Ortho Biotech on changes for Sporanox®
03/27/04 Reliant Pharmaceuticals is now the sole owner and marketer of the RYTHMOL (propafenone HCL) brand family of products in the United States.
12/30/03 Transdermal Calcium Channel Blockers PDLabs
01/14/04 Alpharma, a market leader in generic pharmaceutical products, has renamed its branded division...
01/14/04 Xanax XR is now approved for panic disorder, with or without agoraphobia...
02/20/04 Namenda has been proven effective as first-line monotherapy in the treatment of moderate to severe AD.
Pharmacist's Code of Ethics
Medical Journals Books on line | Disease State Management info
Drug Information Drug Search | Health | Advicor ASTRx Acyclovir Ritalin LA
05/04/04 New Medco Medicare-approved Prescription discount cards
05/04/04 AmerisourceBergen Retail Level Recall Notification
02/23/04 FDA approval of Lamictal tablets from GlaxoSmithKline
02/19/04 Purepac's Loazepam Tablets have cumbled during storage..
Pharmacy Press Releases | Pharmacy Industry News
05/04/04 Novartis drug warning and important prescribing information for Zelnorm
Rx Insurance Info News from PBMs | WellPoint | from Merck-Medco | Aetna
RxLink 02/16/05 - Small Pharmacy thrives along with its customers, community
RxLink 01/27/05 - The Entrepreneurs of Color Council® will present its flagship and community service awards and honor three businesses during its Annual Award Reception on Friday February 4, 2005 including RxLink.
RxLink 01/17/05 - I will continue to be active in organizations that help independent pharmacies through legislation and networking.
RxLink 01/17/05 - Change in packaging for CombiPatch
RxLink 01/13/05 - Pfizer continues to stand behind the efficacy and safety of Bextra®
RxLink 01/04/05 - Micardis and Micardis HCT Package Change Announcement!
RxLink 12/26/04 - Important Correction of Drug Information from JANSSEN Pharmaceutica (Risperdal)
12/07/04 RxLink Pharmacy - Safety and dosing informations regarding labeling for Procrit epoetin alfa.
12/06/04 - Info for the Independent Operations from NDC Health.
12/06/04 - The new single source for Duratus
12/03/04 - Topamax tablets new for Migrain Prevention
RxLink Pharmacy 11/29/04 - Merck/Schering-Plough Pharmaceuticals (MSP) is pleased to introduce VYTORIN.

11/29/04 - Bioval Pharmaceuticals, Inc. - Announcing an important new indication
11/29/04 - New choices when it comes to filling diltiazem prescriptions
$3 M Affinity Clinic...
11/15/04 RxLink Urgent Claims notice from Humana-Military Healthcare Services
10/11/04 - Lustra and Lustra-AF (hydroquinone USP 4%) added to the TaroPharma Portfolio of Dermatology Products
10/07/04 - Acorda's acquisition of Zanaflex from Elan....
RxLink 10/06/04 - VIOXX Voluntary Withdrawal
Did you know that you can refill all your prescriptions on line?
09/13/04 AstraZeneca announced a labeling change in the European Union for CRESTOR®
08/23/04 Important Correction of Drug Information from Janssen Pharmaceutica Inc. about Risperdal relating to hyperglycemia and Diabetes Mellitus.
06/11/04 Important Return Policy Change Information
05/10/04 Mallinckrodt important return policy change information
04/12/04 Pfizer is pleased to announce that VFEND® (voriconazole) is now indicated for the treatment of esophageal candidiasis...
03/26/04 Zithromax Tri-Pak is now FDA approved for the treatment of acute bacterial sinusitis.
03/14/04 Info on Tamoxifen Therapy in Postmenopausal Women with Primary Breast Cancer.
02/24/04 RxLink From: Tap Pharmaceutical Products Inc. The new use for Prevacid® NapraPAC™


SPhinx Pharmacy Ventures to open new store in the Fox Cities - Appleton WI!

Swan Corp 1 secured contract and started construction on a new Pharmacy located in a new $ 5 M. building on The South Suburban Hospital Campus - Hazel Crest IL. South Suburban Pharmacy, Inc. an independant will start Pharmacy Operations soon in the next few months. The new Pharmacy was designed by RxLink.

12/30/04 - Important new information about Lindale Shampoo and Lindale Lotion, USP 1%
12/09/04 - Duramed Pharmaceuticals is pleased to announce the acquisition of Plan B®.

12/08/04 - Changes in how INTRON A Powder for Injection is supplied.
11/22/04 - 11/22/04 - Important Safety Alert Regarding Medication Errors.
From Sepracor: XOPENEX 1.25 mg dose currently used to prevent bronchospasm in adults and adolescents is now available in a unit-dose, ready-to-dilute, concentrate formulation.
10/12/04 - Efudex availability of 40gm size of Efudex 5% cream and Price Notification
Help! Please send me my rebate! 08/30/04
03/26/04 New boosted dosing approved for INVIRASE
03/26/04 INVIRASE new dosing strategy offers potent option in combination with other Anti-HIV drugs
07/19/04 Product Information about Effexor XR
06/01/04 Introducing EBRITUX, The First and Only lgG1 Monoclonal Antibody That Binds Specifically to the EGF Receptor (HER1 or c-ErbB-1) on Both Normal and Tumor Cells
05/25/05 Launching of CRESTOR (rosuvastatin calcium) for lower cholesterol
Pharmacy Related Book Reviews!
Submit a Pharmacy Story to RxLink at Pharmacist@RxLink.biz
03/14/04 Updated information on what to do by patients and caregivers from Janssen Pharmaceuticals regarding patch leaks.
03/14/04 Janssen has taken immediate steps to correct the Duragesic patches leak.
03/10/04 Biogen idec has reintroduced AVONEX® (interferon beta-1a) Administration Packs.
03/10/04 Discovery of counterfeit packaging for Precision QID.
05/10/04 New Spiriva HandiHaler Pharmacy Education Shelf Kit
05/04/04 New CLARITIN Hives Relief™
05/04/04 Purdue Urgent Recall Information